Welcome to Maple Knoll Outreach Services for Seniors
Click here to access our updated Resource Guide where programs and services will be offered

Do not forget to view classes and offerings at local senior centers on our Resource Page!

Maple Knoll Outreach Services for Seniors is owned and operated by Maple Knoll Communities, a nonprofit organization with 170 years of experience serving older adults. Maple Knoll Outreach Services for Seniors is located on the Maple Knoll Village campus in Springdale, Ohio just near Tri-County Mall.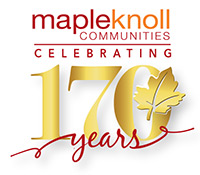 Our outreach services support homebound senior citizens throughout the community. These services include providing transportation to community centers, to medical appointments and to therapy visits. We also provide a volunteer driven meals on wheels program that delivers over 300 meals each day to the homebound elderly in 17 communities.

Maple Knoll Outreach Services for Seniors Serves Hamilton County residents from the communities below.

Amberley Village
Arlington Heights
Blue Ash
Brentwood
Camp Dennison
Deer Park
Dillonvale
Evendale
Forest Park
Glendale
Golf Manor
Green Hills
Indian Hill
Kennedy Heights
Kenwoood
Lincoln Heights
Lockland
Loveland
Madeira
Montgomery
Mt. Healthy
New Burlington
Northbrook
Northgate
Pleasant Run
Reading
Rossmoyne
Sharonville
Silverton
Springdale
Springfield Township
Sycamore Township
Symmes Township
Woodlawn
Wyoming

We invite you to page through our site to see the programs and services we offer to older adults at home so you can Live Life your way!